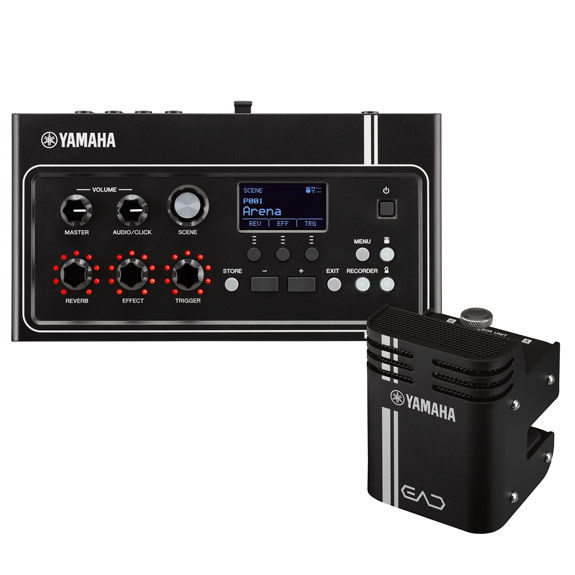 The Yamaha EAD-10 Simplified:
An essential bang for buck tool for any working drummer. I have found use for it as:
An in-ear monitor
Recording drum playthroughs and performances
A mic and trigger set up for front of house
A performance evaluation tool for me to rip apart my playing and forever be my own worst critic
The in-depth review:

What it is:
The EAD 10 is a full kit single stereo mic and kick trigger in one, with the ability to add a snare trigger. The EAD 10 clips on to your bass drum hoop and mics up the whole kit but when it comes to the kick you can blend what the mic picks up from the kick drum plus blend a triggered kick sound as well. In addition, the EAD 10 has a snare trigger input also which like the kick drum, allows you to blend what the mic picks up from the snare and blends it with its triggered sound. The module it comes with allows you to plug in head phones which then allows the unit to act as an in-ear monitor. I get to hear the whole band plus a lot of the kit clearly. Or in a solo practice session you get awesome sounding drums with some nice effects.
Features at a glance:
In Ear Monitoring – Used brilliantly as an in-ear monitor in any setting I've experienced so far. Live gigs, streaming gigs, recording sessions and practising at home.

As a mic for live settings – This is touch and go apparently, a lot of people say they have not been able to use it as a mic to go to FOH (Front of house) however I have been able to use it for many cover gigs. Sometimes even the sound guy we use would blend his mics and triggers with what I get from the EAD 10. The downside to using this as a mic for FOH however is that I can no longer use it as an in-ear monitor as ALL I get is drums in my ears when I want to hear the band as well.

Record audio – From gigs and any performance or practise session.
Record video AND audio – From gigs and any performance or practise session.
It gives you the ability to quickly and easily do drum playthroughs with great sounding drums with the ability to control the volume level of music and drumming separately. Super convenient.

As a practise tool – When using it as a practise tool in conjunction with the app you can A/B sections of a song so you can repeat a section over and over, you can record audio and video which is handy for self evaluation.
What problems it solves and how it makes my life easier/better:
For me I play gigs frequently in my cover band and over time I realised that external to how I played that gig the sound really affected my perception of my performance. Even if I nailed all the parts at times I still wasn't happy as things didn't sound quite right. It took me a while to realise that the sound of the drums and the band in general is enough to throw you off even if you are hitting everything correctly. I realised this because I started to lack satisfaction after we would play outdoor gigs and certain types of rooms. So that was the eventually realised variable that really made or broke each gig for me. The EAD 10 takes these variables out of it to allow a more consistent sound from gig to gig in my ears. And it does this is such a way that the energy and ambience is not lost. When we have our sound guy come do sound for us and I use his in ear set up I find it almost takes you out of the setting and you feel quite isolated, and any adjustments you need to make mid performance are just a hassle to communicate when he is on the other end of the room. The EAD10 maintains the vibey ambience yet gives me exactly what I need which is clear sounding drums as well as the rest of the band. The biggest factor is my kick drum, during gigs in the past when I wouldn't use in-ears I would struggle to hear my kick drum, so I would have to lay into it harder just to hear and feel it. The EAD 10 resolves this. During gigs where the soundguy or band provides in ears the kick drum would just sound super average for whatever reason. The EAD 10 again nails this. I end up with a nice round and fat kick drum sound regardless of whether the EAD 10 is layering a trigger over my raw mic'd kick drum sound. An additional massive benefit is being able to quickly and easily tinker with the sounds of everything on the fly. It's not as elaborate as a mixing desk but it is enough to dial in a nice sound. A word of warning for drummers who mount their ride cymbal right above their kick drum, it will come out super loud in your ears. Maybe a baffle/Foam insert in between would control it nicely.
For practise the EAD10 is absolutely phenomenal. The Yamaha Rec 'n' Share app loads all songs stored on your phone and you can instantly play along to them. Here are some features in dot points:
You can control the volume of the song and the sound the EAD10 picks up separately so you can whichever balance you want.
You can speed up or slow down the song you are playing and this is done really well without much distortion/disruption of audio quality.
The app automatically generates a click for the song and almost always nails it. You can keep it on or turn it off.
You can A/B sections. (Select a section of the song to repeat so you can practise over and over)
You can record while you practise, from start to finish or even A/B sections. You can record just audio, or video and audio.
You can then watch/listen to what you've recorded which is great for evaluating your performance and picking up parts to improve etc.
With recorded clips you can easily trim them and make minor timing adjustments.
You can also adjust the volume of your performance and the song separately post recording with any fine adjustments.
With a few touches you can also upload the clips directly to social media.
What makes it unique:
Well…. There is nothing else like it currently….
Who would benefit most from it:
Everyone single drummer.
Where else can you get such a simple and quick to setup in ear set up for live use?
I think it is the perfect tool for the bedroom drummer who wants to start doing their own clips for the world wide web. It gives a cheap, efficient and effective way to quickly whip up play throughs.
It is an excellent and efficient practise tool. As a teacher I strongly encourage all my students to record themselves playing so they can critique their performance and fine elements to improve. I mean sure you can just use your phone, but this gets you excellent audio even in a raw format. If you're not happy with the raw sound then adjust the scene/preset. Make your practise room sound like a massive open-air arena if you want.
What I want to eventually work out is if it can be used in an online teaching setting to get even better audio quality through to a student on skype, zoom and any other online teaching platforms. I've been a bit lazy in working this out as during an online lesson I don't often play anyway. If this can be used in that manner then I would say this is great for online drum teachers as well.
The bad:
If I'm being picky, most of the presets are mostly unusable. I would have preferred fewer but more practical preset/settings then the many whacky and gimmicky ones included. But you can create your own, and the ones that are practical are great and will get you through most settings.

Originally the app was really buggy, it would often crash mid recording and I wouldn't even know until I finished playing and went to hit stop on my phone. There have been many complaints from other as well. However, the last 2 months have been totally bug free apart from some minor and temporary audio/visual sync settings. Usually stopping, rewinding, and playing the recording again fixes this.
Right now, with the lack of bugs and it's good performance this is an app I would actually pay for (Don't go getting ideas Yamaha) especially if they could add these features:
Be compatible with google/youtube music
I could choose the format of the video it was exporting
It could easily save to my phone's own gallery, it seems to want to force you to either directly upload to socials or dropbox, it would be nice to be able to watch your videos without having to go into the app or even be able to use other video editing apps.
Should you get one?:
Ok, so should you get one?

I think you need to look at what I perceive to be the main functions of it.
An in-ear monitor.
A practise device.
A recording device.
An all in one mic and trigger for recording at home.
An all in one full kit mic and kick/snare trigger for live gigs.
The EAD 10 satisfactorily fulfills all the above for me. At a decent price it is a no brainer. But my suggestion is this, if you need a good, quick to set up and efficient in ear monitor set up and something to record audio from your drums this is brilliant and worth the money.
However, if getting the EAD 10 for the main purpose of using the EAD10 Rec 'n' Share app to record drum covers then you may or may not be let down only because the app has been known to be buggy. (My recent run has been good and problem free however)